Purova Immune
Real Science. Real Results. Whole-Body Performance.
Purova's Revolutionary sPLA2 ANTIBODY approach takes gut health to a new level, providing sustained whole-body performance & immunological benefits never before seen in a gut health supplement.
Reduced Gut Symptoms
PUROVA IMMUNE is the first available digestive solution to target gut inflammation DIRECTLY AT THE SOURCE, providing a wide rang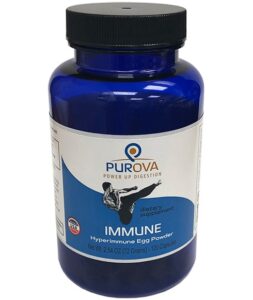 e of benefits never before seen in a gut health supplement. Reduced gut inflammation is key to achieving and sustaining optimal whole-body health.
Minimizes IBS Impact
Reduces Bloat & Gas
Improves Sustainability
Optimized Immune Response
Purova's Direct Impact approach not only eliminates the added energy requirement associated with bacteria-based gut health supplements – it UNLOCKS and RETURNS ENERGY to the body, increasing immunological response for maximum health and improved overall physical & mental well-being.
Maximizes Health & Recovery
Bolsters Immune Resistance
Enhances Energy & Vitality
Enhanced Body Composition
With Purova's targeted approach, the body can retain GREATER BENEFIT from Food and Supplement nutrition. Nutrients are redirected, promoting proven body composition enhancement including reduced fat and increased muscle build, function, and retention.
Improves Nutrient Intake
Promotes Lean Muscle
& Reduces Fat Faster!
THE ANTIBODY APPROACH
Through a patented ANTIBODY approach, Purova is the only supplement today that directly targets & eliminates excess INFLAMMATION-CAUSING sPLA2 in your Gut, promoting a full spectrum of immunological and whole-body benefits.
This direct impact approach isn't just More Effective, More Efficient, and More Sustainable than any other gut health supplement on the market today – IT SETS A NEW STANDARD for elevated whole-body health!
PUROVA IMMUNE.  GUT HEALTH REDEFINED.